Welcome!
You and your patient can work together to facilitate their recovery

This is the online version of WhipPredict, a clinical prediction rule for whiplash. This is a research-generated tool for physiotherapists to predict the likelihood of their patients developing moderate/severe disability or experiencing full recovery following whiplash injury.

If you are already familiar with WhipPredict, please press Start and let your patient complete the questionnaire.

Once you press the Start button, a questionnaire page will appear. This questionnaire is for your patient, and it includes:
Name and age
The Neck Disability Index (NDI, 10 questions)
Additional questions about hyperarousal symptoms, which may appear depending on the patient's age and scores on the NDI)
We believe that it is important that you inform the patient of the predicted outcome, rather than them having to find it themselves. For this reason, the results section of WhipPredict is protected by a password.
To access the password for the online tool or to request a downloadable hard copy of the tool, simply send an email to
recover@uq.edu.au
. Please write "WhipPredict password request" or "WhipPredict downloadable tool request" un the subject line, and do provide us your name and professional contact details in the body of the email.
For more detail – please see
information about WhipPredict
Recovery following a whiplash injury is varied:
approximately 50% of individuals fully recover,
25% develop persistent moderate/severe pain and disability,
and 25% experience milder levels of disability.


A clinical prediction rule (CPR) is a research-generated tool used to predict outcomes such as likelihood of developing moderate/severe disability or experiencing full recovery from whiplash injury.
In
our study
we observed:
an increased probability of developing chronic moderate/severe disability in the presence of older age and initially higher levels of NDI and hyperarousal symptoms (PDS) (positive predictive value [PPV] = 71%).
increased probability of full recovery in younger individuals with initially lower levels of neck disability (PPV = 71%).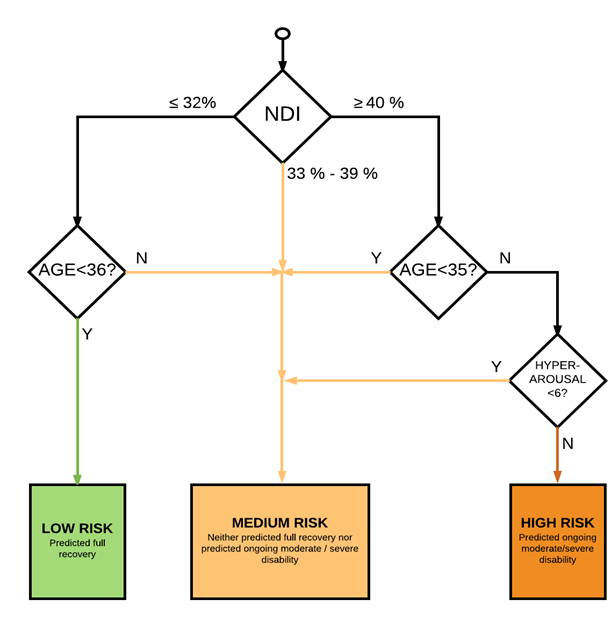 We are currently undertaking a clinical trial where treatment is provided based on the risk classification of the patient. We are proposing that those classified as 'low risk' will need minimal intervention comprising of advice and simple exercises. Patients classified as 'medium' or 'high risk' require further assessment of physical (movement and muscle control, kinaesthetic awareness, sensory examination) and psychological factors such as recovery expectations and posttraumatic stress symptoms. Treatment will depend upon findings from this more detailed assessment.

For further information on the current (2015) evidence based Clinical Practice Guidelines for Acute Whiplash, visit the following website: http://www.maa.nsw.gov.au/for-professionals/for-health-professionals/acute-whiplash